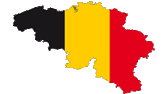 There appears to be a resurgence in interest in Brits rallying in Belgium, in particular in the FIRC (Flanders International Rally Challenge) and a number of people have questions about the differences and requirements compared to the UK and so this page will go some way to answering the questions you may have.
Be prepared to become an expert in using Google Translate.
A website has been created in 2016 that covers many of the points below and others and should be a great resource for crews who wishes to compete in Belgium.
www.thebelgianconnection.co.uk
What licence do you need?
MSA Nat A licence, or above, is legal for competing in National level events in Europe so you don't need to go to the expense of an International but you cannot compete on a Nat B but you will need an MSA "visa" which is available free from the MSA, but you'll need to apply for it, also have your MSA club card but don't worry about which club as you'll not be competing in your regional association championship.
Any other paperwork?
Yep, you'll need more than you need in the UK. Have photocopies of your Insurance and MOT and be prepared to hand them over, so take photocopies!
Have your MSA Logbook with you and a green card insurance document to prove you can drive on the continent. You'll also need to copy of a letter from the MSA that advises organisers that your licence is legal in Belgium.
https://www.msauk.org/assets/competitorscompetingabroad.pdf
See the Blue Book for the MSA's recommendations. At the time of writing Appendix 3 Page 387.
Insurance
Be aware that when you pay insurance on an event you are not paying to drive between the stages as you would in the UK but actually the public liability insurance. You will need to extend your car insurance to cover the road sections of the event. Speak to your rally car insurer.
Do seats and belts need to be homolgated and in date?
European events insist that belts and seats are FIA and in date, don't try and turn up with old belts and seats as you'll fail scrutineering and a nice man will sell you very expensive equipment to allow you to compete, or you'll go home.
As the UK now insist on in date FIA seats and belts this is no longer the issue it once was.
What racesuit is legal and do I need fireproof underwear and boots?
You'll need to wear FIA legal racewear as you do in the UK and it needs to be 8856-2000 and not the older 1986 spec. You must wear fireproof underwear, including socks and balaclava, as well and the driver has to wear gloves, sensibly the co-driver doesn't. Boots are a must also.
Do I have use HANS?
Yes you do. When I first wrote this article it wasn't mandatory in the UK but as it is now you'll have one and you'll have to use it.
Do I have to have window film on the sidewindows?
If it's glass you do, but as your car needs it for an MSA logbook you'll already have it fitted.
Can I run perspex sidewindows?
You can run perspex side windows and rear screen so you don't have to put the glass back into your Mk2.
What size fire extinguisher do I need?
4KG Extinguisher
What noise levels does the car have to conform to?
They like their cars noisy in Belgium so a straight through should be fine but remember to put the quiet exhaust back on for your rallying back in the UK.
Can I run my Vauxhall engined Mk2 Escort in FIRC events?
You don't have to run the same engine as the car was manufactured with, but it does have to be the same manufacturer. So no redtop engined Escorts but you can run Duratec engined Escorts.
Do I need an FIA Bag tank?
Alloy tank will be fine, just make sure it's not leaking and no holes in the bulkheads and no plastic sight tube, sorry you'll have to find another way of knowing how much fuel you have left.
They're pacenote recce events, so can I use the rallycar to recce?
Nope you can't use the rallycar or the service van, you can use a 4×4 but recce car can't be the rallycar or your service barge.
The regs for Monteberg Rallysprint stipulate that cars can't have cages so dedicated recce cars can't be used, if you're fortunate to have one
Belgium Rally Classes
division 1: standard
division 2: gr.N, R1
division 3: gr.A, M, WRC, R2, R3, S1600, S2000, GT racb
division 4: historic
class A: -1600
class B: +1600-2000
class C: -1600 div.2
class D: +1600-2000 div.2
class E: 2001-3600
class F: -1600 div.3
class G: +1600-2000
class H: +2000-2500
class I: 2500-3600
Note that there is no 1400cc class
Thank you to Kristof Denaeghel of FIRC for this information and clarification.
Anything else?
Yep you'll need a few extra safety items that you won't need in the UK, but won't break the bank to purchase.
A life hammer, to break the windows and cut your belts in the event of a biggy! As belt cutters are now required in the UK this once again shouldn't be an issue.
Reflective vest if you have to change the wheel, you should have it in your road car if driving abroad anyway so just take a spare.
Rollcage padding needs to be FIA spec.
If you're likely to run a lightpod during the event have it fitted at scrutineering.
So where can I find about the challenge?
Try the website FIRC and if you want to check out the FIA regulations their website can be found here
List compiled by Neil Dodd and the members of the British Rally Forum from personal experience and knowledge. This is not a definitive list and your assistance in it's maintenance would be appreciated.